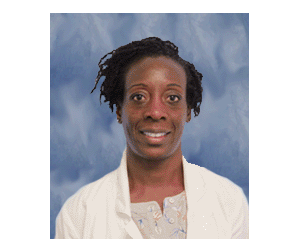 Mawunyo (Mo) Gletsu, PT, DPT, NCS
earned a Bachelor's degree in Physical Therapy from the McMaster University in Ontario, Canada and completed her transitional Doctorate in Physical Therapy through Nova Southeastern University in Fort Lauderdale, Florida. She also holds a Bachelor's degree in Kinesiology from the University of Waterloo.

With over 20 years as a physical therapist, her dedication to the profession is notable. Mo is a board certified clinical specialist in Neurologic Physical Therapy (NCS) by the American Board of Physical Therapy Specialties since 2002. With less than 1% of all physical therapists earning this distinction, and the only therapist in the Sandy Springs area practicing in private practice, Mo's expertise places her among prominent and devoted physical therapy professionals who have earned neurological physical therapy board certification.

Mo also is trained in Neurodevelopmental Theory (NDT) since 2004. This is a research treatment approach to assist clients in their recovery from neurologic conditions such as brain injuries and strokes; NDT focuses on analyzing patients' neurological movement impairments in order to facilitate optimal movement strategies. Therapists trained in NDT are able to properly assess and treat the variety of neuromotor problems experienced by these individuals and help these individuals become as functional and independent as possible. NDT therapy is based on scientific principles and current research.

Since 2001, Mo is trained in Complete Decongestive Therapy (CDT) from the Academy of Lymphatic Studies in Sebastian, Florida. Lymphedema is a chronic, progressive condition that affects approximately 2.5 million people in the USA. Lymph is a protein rich fluid carried in lymph vessels, a vital part of the body's immune system that filters the blood of impurities. Conditions which cause Lymphedema include: 1) Post surgery swelling such as following Breast Cancer surgery and radiation, 2) Post traumatic swelling after injuries or accidents and 3) Chronic venous insufficiency. CDT is the most effective way to treat Lymphedema conditions. CDT consists of manual lymph drainage, a gentle manual technique, compression therapy using short stretch bandages and compression garments to prevent re-accumulation of fluid, specific exercises utilizing muscles to pump fluid and skin care to prevent and treat skin infections and wounds.

Mo is certified in Dry Needling from the American Academy of Manipulative Therapy, enhancing her ability to treat various orthopedic conditions of the spine, and extremities.

Mo has successfully completed three full marathons in Oklahoma City, Chicago and San Diego and several half marathons in Georgia and South Carolina. When not working, she is most likely to be found on one of the many tennis courts in the Atlanta area being very active in ALTA and USTA tennis.