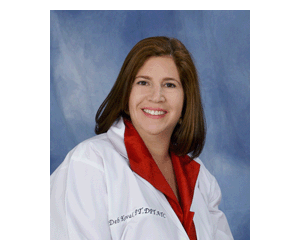 Deborah Koval, PT, DPT, GCS, CEEAA, ATC, MSEd
earned her Doctor of Physical Therapy degree from Boston University. She completed an original research study on older adults and falls risk with positive clinical results for reducing falls risk.

Debbie is a board certified clinical specialist in Geriatric Physical Therapy (GCS) by the American Board of Physical Therapy (APTA). With less than 1% of all physical therapists earning this distinction and less than 20 in the state of Georgia, Debbie's expertise places her among notable and dedicated physical therapy professionals who have earned board certification.

Debbie secured her Masters degrees in Physical Therapy from Washington University in St. Louis and Research Methodology and Statistics from Johns Hopkins University with original thesis work on running injuries. She has Bachelors degrees in Athletic Training and Sports Management from Towson University and Biochemistry from the University of Maryland.

She has completed the prestigious competency-based vestibular rehabilitation certification through Emory University in April 2017. Debbie is also a Certified Exercise Expert for the Aging Adult (CEEAA) credentialed by the APTA in January 2020.

Debbie's unique background provides her with the skills, knowledge, and insight to enhance patients' function and quality of life. Debbie understands her patients' goals and is able to establish a personal connection with them. Her distinctive approach to Physical Therapy results in a high level of patient satisfaction and enhanced functional outcomes.

Debbie practices physical therapy in her clinic, Restorative Therapy & Wellness in Sandy Springs, GA. She treats patients from young teenagers to geriatrics in subspecialties including sports medicine, vestibular rehab, cardiopulmonary, balance and falls risks, orthopedics, arthritis, and neurological case mixed diagnoses.

Debbie has competed in two marathons and several half marathons, and personally understands the physical demands of exercise at anyone's baseline level. She lives in Dunwoody, GA with her husband, Mike.